Behind many successful businesses, there's a sales great sales team helping the business reach its full potential. Great salespersons can help increase the growth and revenue of the company and can help keep customers happy and coming back for more. Hiring the right people for the job is crucial and can make or break your business. 
Here's how you can prepare for your company's next round of sales interviews to ensure you're hiring your next star salesperson. 
1. Tap into your network 
In such a competitive space like sales, leaning on your network could be just what you need to find top talent in the industry, especially if you're looking to fill roles that require more experience, like sales leads and executive team members. Sometimes reaching out to your network and getting a few referrals can save you time sorting through 100 responses from your job listings.
2. Get referrals from existing team members 
Your employees likely also have an extensive network, so lean on them for employee referrals. Employee referrals will not only help you cut down on time spent recruiting, but it can also lead you to find more qualified candidates since they're being referred by trusted team members.
3. Do an initial screening and schedule interviews with potential candidates
The next step is doing an initial phone screening before the big interview. For sales roles, this can be extremely beneficial to gather insight into a candidate's experience and see if they'd be a good culture fit before moving forward. Just because someone seems like a fit on paper doesn't always mean they're the right person for the sales job. An initial phone screening can help you understand whether or not the candidate is worth pursuing. 
4. Review the candidate's resume 
Before conducting a successful interview, you need to review your candidate's resume ahead of time. Take about 10 minutes before the interview to review the candidate's experience so you can formulate questions to ask them during the interview and get an overall understanding of how their experience can pertain to the role they're interviewing for.
5. Provide expectations for the interview
The big day is here and it's time for the interview. At the start of the conversation, make sure to set expectations so the candidate knows what to expect. This can help take some of the pressure off before diving into the bulk of the interview. For example, let them know who you are, what role you'll be interviewing them for, how long the interview will last, and a brief overview of what the interview will entail.
6. Create a positive interview experience 
It's completely normal for candidates to come into an interview feeling nervous—we've all been there. Help ease their nerves by creating a welcoming and inviting environment from the start of the interview. Getting to know them in the first couple of minutes and asking a couple of simple personal questions before diving into the interview can do just the trick.
7. Remember to take notes
Make sure you're jotting down notes to reference after the interview to help make your hiring decision. It may be smart to write down the questions you plan to ask ahead of time, then fill in notes on their answers during the interview to stay organized.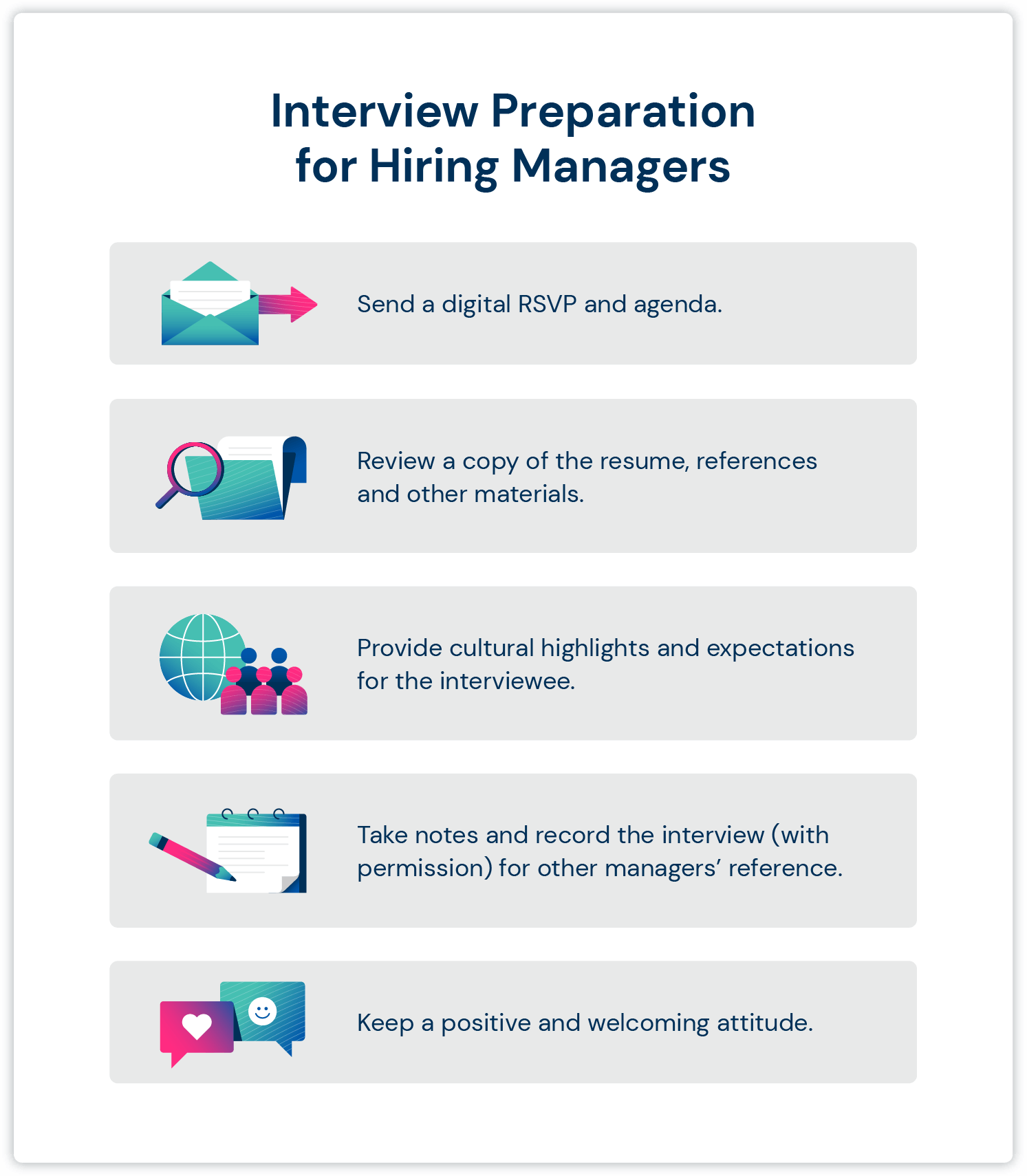 Sales Interview Questions to Ask Potential Candidates
Questions are the most important part of any interview. Here are some examples of sales interview questions you can ask potential candidates during your next interview. 
Sales Role Questions
What does your current sales process look like? 
What advice would you give to someone just beginning their sales career? 
What sales software and technology are you familiar with? 
Are you comfortable making cold calls? 
What excites you about the sales industry? 
What is your least favorite part about a sales job?
Can you sell me this pen?
Tell me about your most successful sale.
Describe a time you fell short of a sales goal and how you handled it 
Sales Manager Questions
How do you build a good rapport with your team? 
Describe a time you've had to give difficult feedback to a direct report. 
How would you motivate an employee who is struggling to meet their sales goals? 
How would you describe your management style? 
What qualifications do you look for in a sales representative? 
Describe a time you had to implement a new process with your team and how did it go? 
Personal Career Questions
What are your career goals and where do you see your career in five years?
How do you stay motivated at work? 
What are your greatest strengths and weaknesses? 
What do you think is the most important quality in a salesperson? 
What hobbies do you enjoy outside of work? 
Situational Questions
Have you ever worked remotely? If so, what challenges did you face?
Can you explain a time you made a mistake at work and how you handled it? 
Tell me about a time you received constructive criticism and how you handled it. 
Explain a time you previously managed conflict with a coworker. 
How would you handle and follow up with an unresponsive prospect? 
Culture Fit Questions
Would team members describe you as collaborative or competitive? 
Why are you interested in working for our company?
What did you like best about the culture at your last company? What did you like the least? 
What makes you stand out from other candidates we may be interviewing?